Kryptos
THE NEW INVISIBLE LOCK
INNOVATIVE SYSTEM FOR ADDITIONAL SECURITY AT HOME! 
At Porta Block we do not just manufacture high quality security doors.
We offer moments of calm and serenity in every home.
How do we prove that?
The new innovative Kryptos invisible lock system is specially designed to offer you the extra security you need!
After having been tested in the most difficult endurance tests and made of the highest quality materials, Kryptos is a proof of the guaranteed quality and reliability of the name Porta Block.
Kryptos is placed on Porta Block security doors either during their construction or afterwards.
Moreover, it can be installed in most security doors of the market, provided that it is permitted according to their construction specifications.
It has an immobilizer (control) with high security rolling codes, it may operate using electricity (either directly from the outlet or through the switchgear), while it also has a battery in case of power failure. It comes with a five-year warranty, while we can change the battery, as required (for precaution) after 5 years.
Are you still looking for the lock?
Kryptos is cleverly placed so that only you know its place, while its illuminated peep-hole (for 2") serves as an indicator so that you know if it is locked or not.
Now you can be even more confident for the security of your home and your loved ones, since it is impossible to detect Kryptos and break it.
Those who tried to "break" Kryptos, only managed to confirm this!
Kryptos.
Security you do not see,
Yet you feel!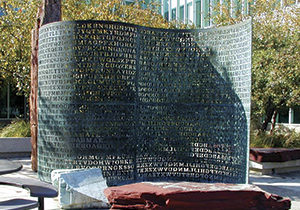 The "Beginning"
In November 1990, a huge, S-shaped sculpture was placed at the CIA headquarters in Virginia, USA. It was Kryptos, perhaps the most famous cipher of all times, as no one ever managed its secret code to this day. 18 years later, in 2008, a new "secret code" was named after Kryptos, one made for the first time at the Porta Block factory. It was the new revolutionary "invisible lock" system which guarantees even greater security and protection for any space, as its secret mechanism of operation is impossible to pinpoint and break. 
All those who tried to break Kryptos, only confirmed this!